- Tip -
The importance of a character's eyes
The old saying, "The eyes are the windows to the soul" is so accurate.  Eyes communicate a lot of about a story character.  A character with no eyes is disconcerting.  A character with hidden eyes is mysterious.  A character with weird eyes can become exotic…even alien.
Elves and humans both relate to features that look like our own, and the eyes most especially.
For example, take this poor guy.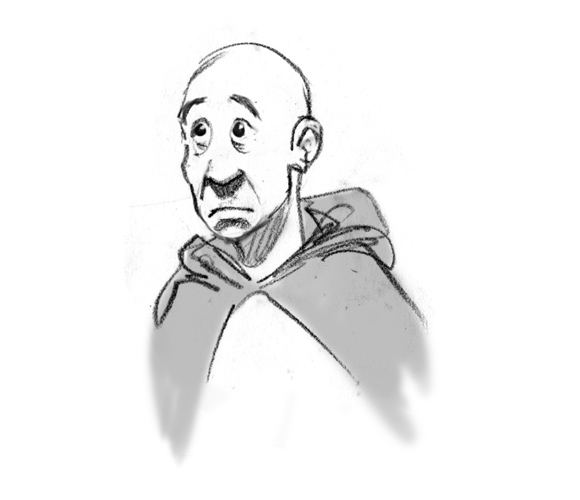 He's just a normal guy, he looks kind of worried with his puppy dog eyes. You see all of his face clearly and you start to know a bit about him.
But… if you pull his hood up onto his head…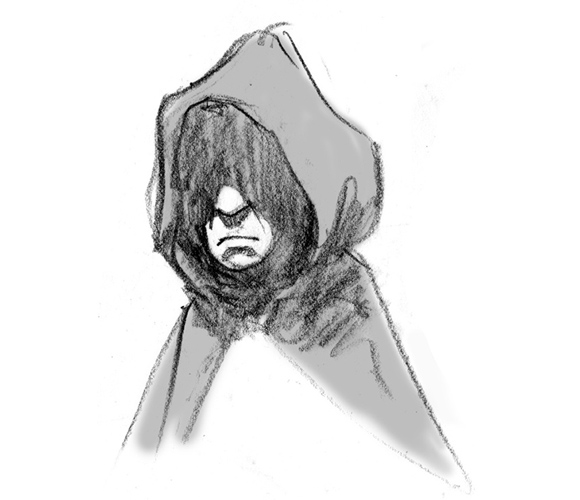 you mask his features, you hide his eyes, and instantly he's mysterious. Is he good?  Maybe.  Is he evil?  Maybe.  One thing we know is that he's not the worried guy from before.
And, it works the opposite way, as well. You could take a character with absolutely no recognizable features to a human or an elf and add some human-looking eyes…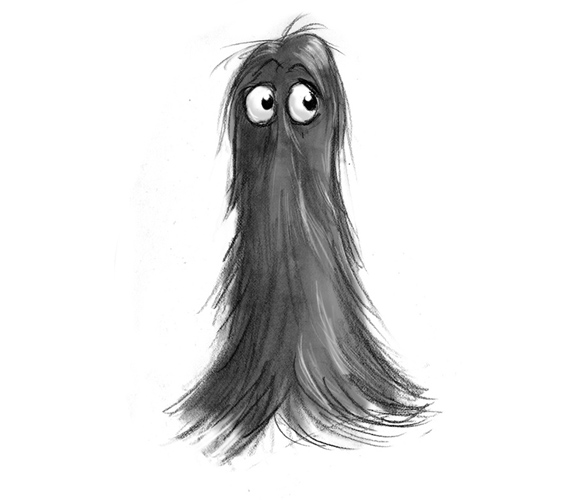 Now you have a  strange creature, but we relate to him because of the familiar looking eyes. This creature is a pile of hair!  However, those eyes make him look like a potential friend.
Even something as adorable as a bunny…
You generally want to hug and squeeze bunnies because their eyes are large and their hair is soft.  Yet, rabbit eyes are nearly all pupil. They tend to look like shiny black marbles rather than like our eyes, which show a lot of white. Even eye differences this subtle can affect our connection to a character or a creature.  A rabbit is cute, but the different eyes make it very much an animal.
Then there are animals that have eyes with almost no resemblance to ours. Take a goat…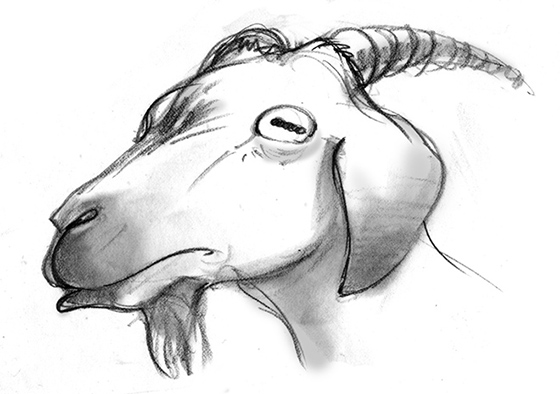 That pill-shaped eye is really different.  It can make you feel uncomfortable (at least that's how I feel).
Even crazier eyes exist in reptiles and insects. Check out this gecko's wild peepers!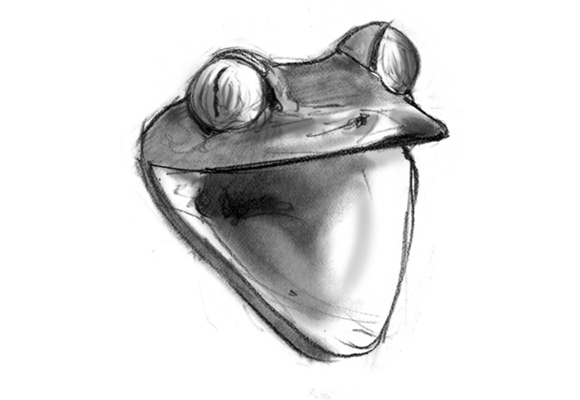 So, the point of all of this is:  we, as artists, can use this knowledge to our advantage. If we are creating a new character, we can quickly and easily adjust how normal, creepy or weird we want that character to be just by changing the eyes!
For example, here's a nice character who might live in the forest.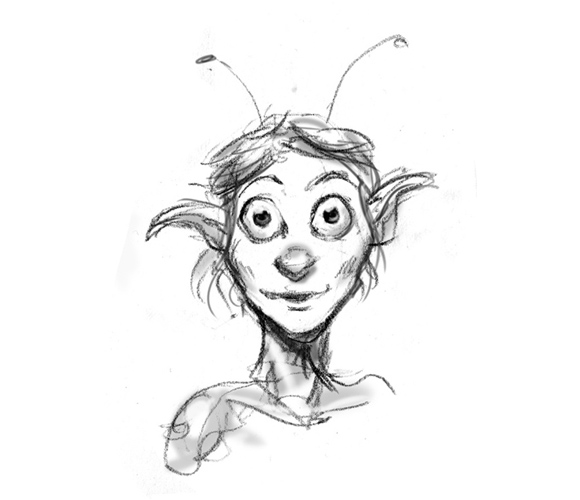 Looks like a friendly enough character. What if she had bunny eyes, though?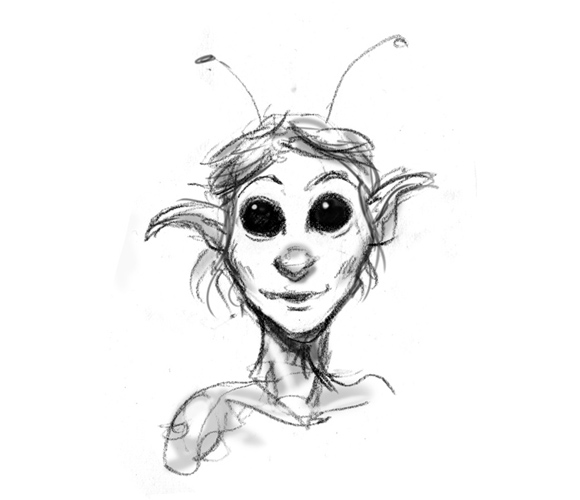 Hmm… Still friendly, but all of a sudden she's a lot more exotic. She's becoming more of an animal than a small-pointy-eared-elvenish character. Let's keep going.  What about some goat eyes?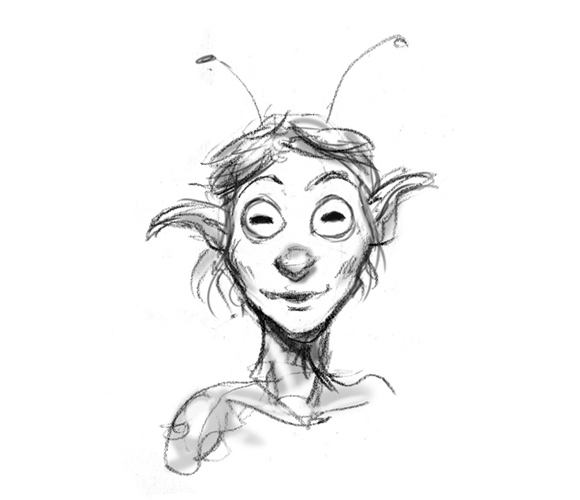 Bizarre, right? How about some gecko eyes instead?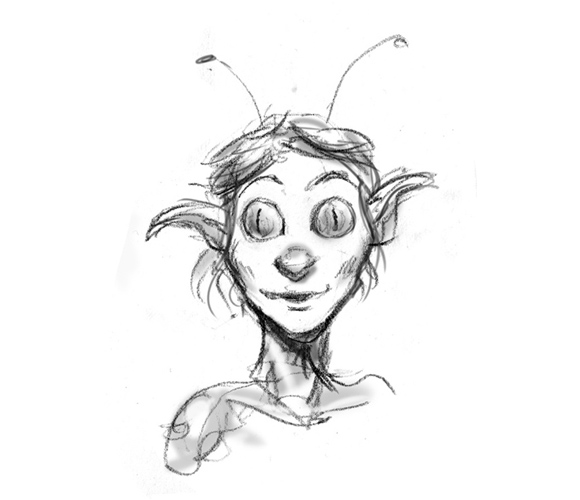 Weirder and weirder. Each change reinvents this character.  And, all we are changing is the eyes.

When you create characters, give special attention to the eyes.  You will then appreciate how much eyes define the character.
—By Scoble