- Tip -
Gesture!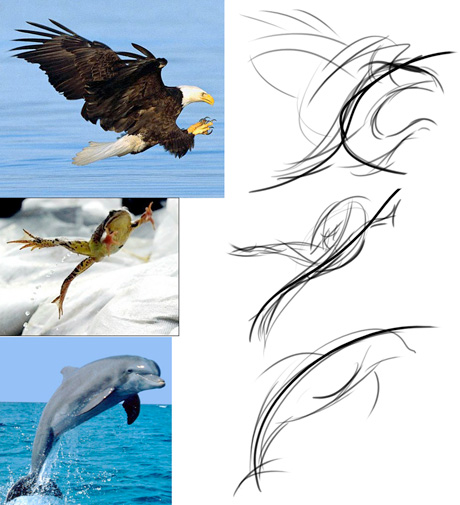 Say you've been drawing for a while and you can get something to look like what it is supposed to be but the drawing feel a bit lifeless, stiff, or too posed.  Elf elders will say that the chances are you are focusing on details instead of the whole.  This tip is about something we call gesture.
Gesture is the overall movement of something.  Humans and elves have gesture, animals have gesture—even trees have gesture.
To get a gesture, the best thing to do is find a center line and draw it first. Think of a line that runs from the top of your subject, following its center, and out the bottom.  This will give you the most basic and important curve of what you are drawing.
Once you do this, add the most important intersecting angles on this center line. Intersecting angles?  Don't panic.  Those are just lines that cross and connect to your center line. Look at the eagle, frog and dolphin above that Joble photographed for me.  Each one has a heavy center line and then some additional lines that cross the center line.
When it comes to trees, your instinct may be to draw them completely straight up and down. Most trees aren't this way, though.
Trees, even when relatively straight, always have a gesture, as do each one of their branches. So, before getting lost in the texture of bark, or the pattern of leaves, just follow the lines of the trunk and branches.  You'll give a lot more personality to each tree you draw.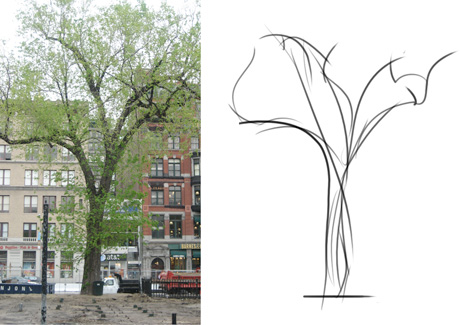 One final tip:  try to do this as fast as you can. The more energy in your hand, the more energy will be in the drawing.
Remember, the thing you draw doesn't have to be something in motion. Even stationary figures have a gesture.