We work in four distinct ways: writing a story,
editing the words, illustrating the story and
designing the look of each story page.
  By undertaking these four types of work, a story
becomes a polished book.
We offer tips of these four kinds in the event that
you might like to create books of your own.
    Don't forget that you can collaborate with
another artist, as we ourselves do.
Brain Tips
You can't do much story work if your brain isn't feeling comfortable, so brain tips are also a perfect place to start.
If you arrive to the workshop with a
Specific Question
and you do not find an answer, type it up and send it along to us in the Ask an Elf room.
Story Doors
lead to rooms in which we ourselves make stories.
You are welcome here, too.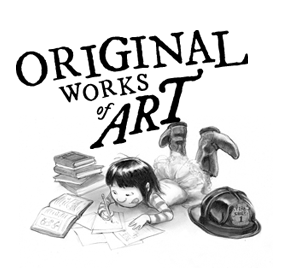 Stories are not easy to make, this is true. But, everyone is capable of telling a story, with the right help and support. And, when you begin to make your storytelling decisions with creativity and confidence, when you begin to look at choices as opportunities, you will be constructing something uniquely your own: an original work of art. That is very satisfying work.
If you still feel a bit nervous about starting,
visit the Fears Pond and feed the workshop fish…