- Tip -
Listen to the stories in songs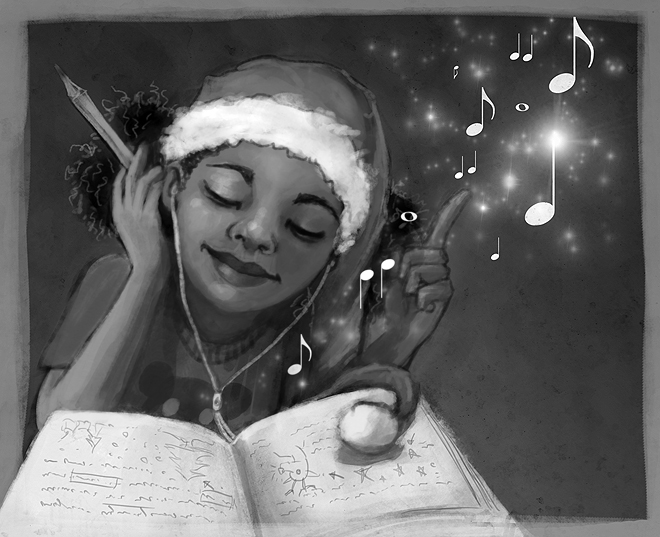 Music rings out all over the workshop.  Spider fibers, spun by an unusual breed of spider, carry the sounds of The Song Elves to all of the different rooms.  At this holiday time of year, we often take breaks to dance to our elven holiday music!
Elven music is another form of our storytelling.  Our history is captured in songs.  Today, we write songs about time-honored elven events and traditions, and also more ordinary things—such as two young elves falling in love and lashing eggnog thunderstorms.
Elves enjoy some human music, too, and human music also tells stories.
All of the other reindeer
used to laugh and call him names
They never let poor Rudolph
play in any reindeer games.
Then one foggy Christmas eve
Santa came to say:
"Rudolph with your nose so bright,
won't you guide my sleigh tonight?"
Can't you see Rudolph in your mind?  He's lonely and left out, and then his fortunes change dramatically.
And what about the words in this song.
I'll be home for Christmas
You can plan on me
Please have snow and mistletoe
And presents on the tree
Christmas Eve will find me
Where the love light gleams
I'll be home for Christmas
If only in my dreams
This song always brings a tear to my eyes.  What treasured memories this gentleman must have of his home!  But he can't be there in person.  He can only be there by way of his imagination and his memories.
New idea:  Listen in when songs are playing.  Listen for their stories.  Who is the main character?  What takes place in the song?
Songwriters are experts at crafting story in a very short space!  Many, many songs are fine lessons in short storytelling.
An elf by the name of Fara also advises getting up to dance.  She says we hear the story even better that way.