- Tip -
Describing injured characters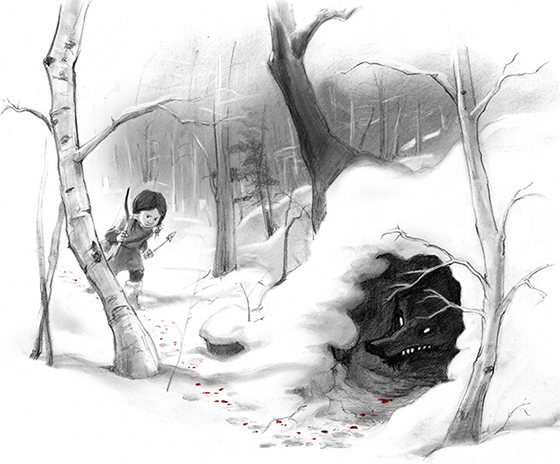 If you look closely at the illustration above, you will see just a few drops of blood on the snow.  The character in the cave is badly injured.
Humans, animals, mythical characters, indeed any sort of character might become injured inside of a story.  Characters have conflicts, fights, wars and accidents.
What description do you give, though?  How much blood is too much?  This is important to think on.
Furthermore, it is helpful to visit the mind of your injured character to fully feel everything that happens to him.  Injuries bring about emotions such as fear, sadness, confusion and anger.  Injured characters don't always survive!  These feelings are an important part of the description.
New idea:  If you are writing a story in which blood will appear, think on the matter carefully.  Try writing a description several different ways to experiment with options.  Be careful about describing too much blood.  When there is too much, blood may very quickly lose its effect on the reader—or make them want to close the story.  Just a few drops on glistening snow may be all you need to convey trouble and pain.
And try not to let the physical description overshadow the emotions and thoughts swirling inside of a character.  Such descriptions are often less powerful reading than the desperate feelings of a character who may not live.