- Tip -
An elven Thanksgiving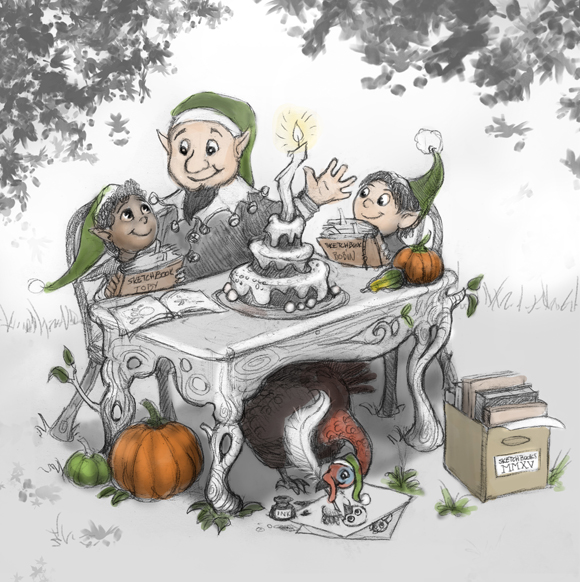 In the Fall, elves celebrate a holiday.  We celebrate by taking stock of all of the work we have done throughout the year.
How do we capture the look and feel of a holiday in a drawing?  We work with small details that we know elves are sure to recognize and associate with that occasion.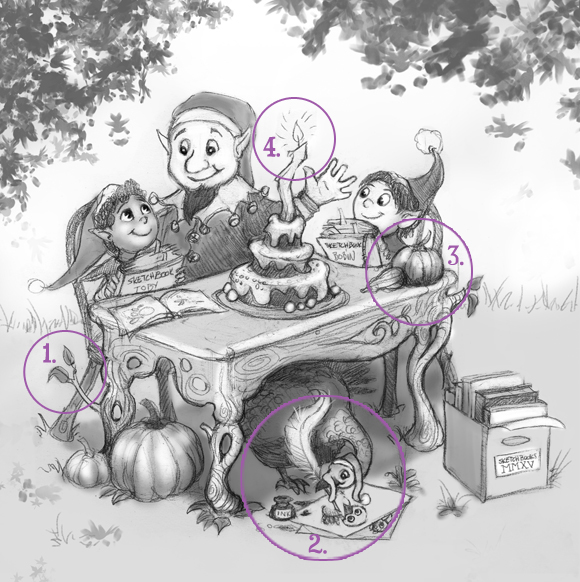 1. Unlike human furniture, elven furniture continues to grow even after it is made, so you'll often notice little green sprouts.  This detail in the furniture reveals that the setting is in the elven world.  (The pointed ears and soft hats will reveal this, too, of course.)
2. When we draw elven holiday scenes, animals are nearly always present.  In our lives, they add humor and a touch of fun and life!
3. The gourds and pumpkins signal the time of year, the Fall season.
4.  The cake is important because it heralds a celebration.  Two young elves are happily going over the year's notebooks and journals with an elf elder who is beaming with pride.  These less experienced story elves have come a long way in one year, and they richly deserve a slice of cake!  (Note that I put their names on the journals, another small detail.)
Take a moment to look at what you have learned this year and how much your stories and drawings have grown.  You may be very pleasantly surprised!
(You also may like this Writing tip, about how to notice  our improvements and successes Search-For-All-Of-The-Improvements.)