- Tip -
Secret worlds and scale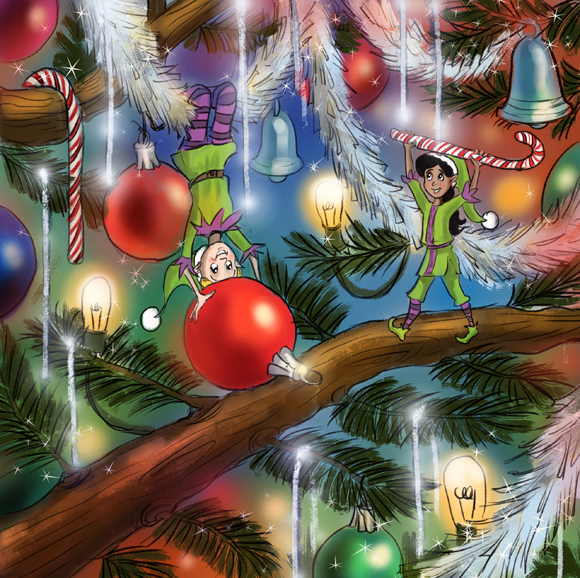 Magical worlds often occur inside of everyday things.
You may be aware that the small elves are the story elves who work extensively on the details of a story.  And at holiday times, small elves help with the detailed decorating—from the inside!
As storytellers, we can also always create new worlds and experiences by imaging things, things that are inside of something larger, like a large evergreen tree.  Getting inside of spaces as a storyteller allows us to get a whole new perspective.
What does an evergreen tree look like when you take a very close inside look?  Mapping out the sizes of objects relative to each other is a good first step.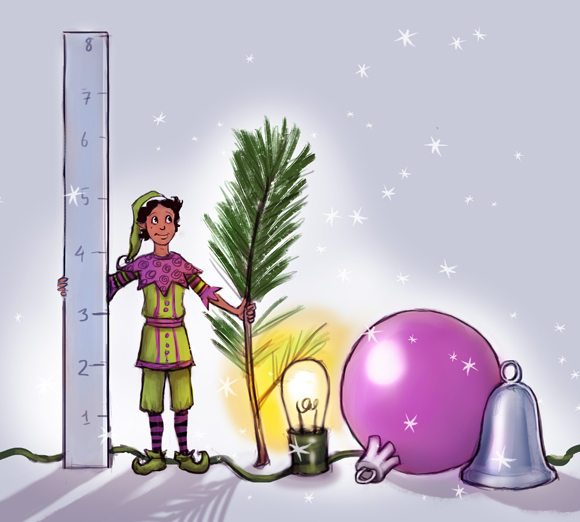 For example, the average height of a male small elf is approximately 5 inches tall.  Lights, glass bulbs and bells are smaller than he is, but not much!  The little branches on the tree are actually taller than this small elf.
Look inside of a tree or any holiday decoration that you like, and imagine it full of characters and decorations on another scale!
Happy Holidays from all of the big elves, small elves, hummingbirds, and mice in the workshop, as well as from One-der and his pack, and Prince Jeremy and Princess Eleanor!
Even some of the witches send their best.