- Tip -
Leave the eraser behind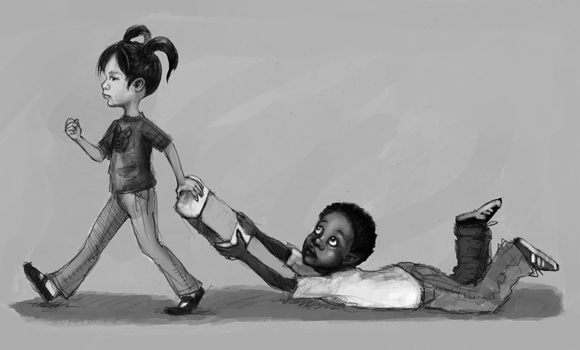 Erasers are a tool that more experienced illustrator elves use.  The elf elders encourage younger elves not to use them!
Why is this?
Erasers are great for correcting mistakes, no doubt about it.  However, we can become too dependent on an eraser,  and then our decision-making while drawing can suffer.  You might wonder, "What does decision-making have to do with drawing?"
Quite a bit, actually!  Whenever we put down a line, we are making a decision about where that line should be and how it should flow.  If we can always erase the line, it isn't quite as important a decision because we can just quickly undo it.  If we can't erase, we are suddenly a bit more thoughtful as we draw.
Even the idea of this may make you nervous, yet it is excellent practice for becoming better at drawing.  Drawing in ink instead of pencil is also a great way to teach ourselves to draw more confidently—because again, we cannot erase, so we have to think about what we are doing right in the moment.
Try giving up your eraser!  It can take a little while to get used to, but if you keep practicing, you will see significant improvement in your artwork.