- Tip -
Use the THEME to get crazy!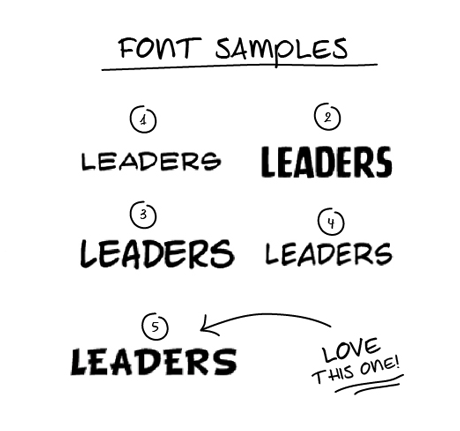 In the previous tip, I talked about picking the theme for One-der, but that doesn't mean I am now limited.  It means I can go crazy with ideas!
I took one line from the story, when One-der, the dog, is sizing up his new pack of humans,
"They just weren't LEADERS.  Not a single one of them."
Then, I focused on one word, "LEADERS."  How would this one word look in a lot of different fonts?
A designer elf is never scared to interpret a theme in different ways.  How many ways could I show my theme??  That is what I asked myself, and then I created a lot of options.  Options and ideas always lead me to the best choices, the best combinations!
Push yourself to explore.  This is the time to be creative!  Even if something doesn't seem like it fits perfectly, try it anyway. Right now, it's better to have too many ideas to pick from than too few.
Get crazy!