- Tip -
Your sketchbook is YOUR playground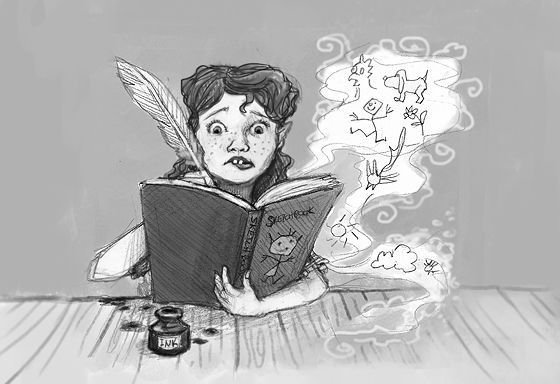 In the previous tip (pack-a-sketchbook), I talked about keeping a sketchbook.  This tip is about thinking of a sketchbook as your playground.
Just like a diary, anything you draw or write in your sketchbook is For Your Eyes Only.  You can choose to show someone your sketchbook, but you don't have to show it to anyone!  Remind yourself of this often!
The sketchbook is not for making finished work, it is for playing and having fun. In fact, there are elf elders who believe that if you sketch with the concern of showing off, you will never get any honest practice.
Your sketchbook should be a carefree place where you can draw whatever you like without the worry of whether it looks good or bad. Your sketchbook is about you —and practicing this attitude will help you enjoy sketching more.
I have made so-called bad and even so-called horrible drawings over the years!  But all of these drawings are merely practice to make a good drawing. I don't let it bother me if a drawing doesn't come out as I hoped.  I know that I am one drawing closer to the one that turns out well.