- Tip -
Let's talk scenery!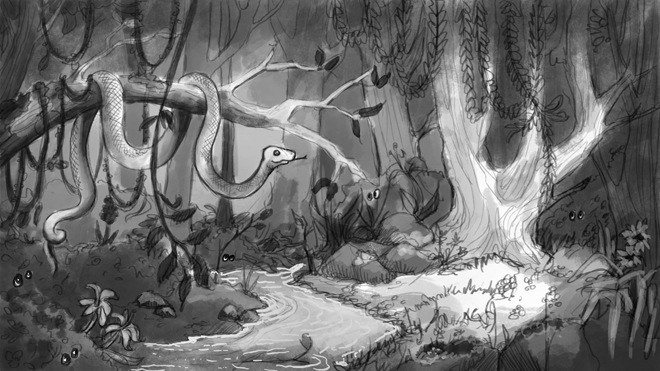 Scenery and backgrounds are essential parts of a story.  These drawings really make the world you are trying to create come alive.
Creating a background can seem like a big undertaking compared to drawing one character. If you feel overwhelmed, review the tip on the power of suggestion, backgrounds-power-suggestion.
For this jungle setting I began with a rough thumbnail drawing. Thumbnail drawings are small, quick sketches that help you plan out the important parts of your idea.
Thumbnails can be very freeing to make because, knowing it only has to be small and quick, you don't worry too much about how it looks!  The only thing that matters is getting some of your main elements and ideas in place.  You might have to do some research, too, to know what details to include in a particular kind of background.  A jungle is dense, it has trees and rocks and certainly some creatures living there.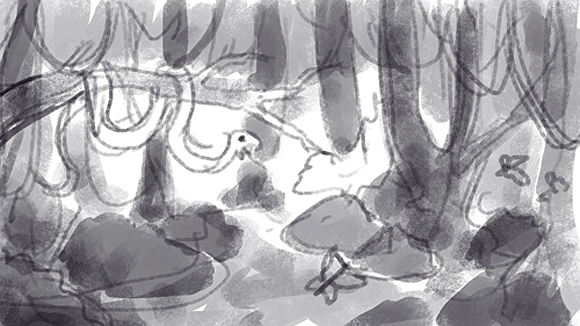 When my thumbnail has the pieces I want for my final illustration, I begin my line art.
For the line art, I focus on using very simple shapes and lines to build up a busy and lush looking jungle. 

 This is a new drawing that I do, based on what I figured out and planned in my thumbnail.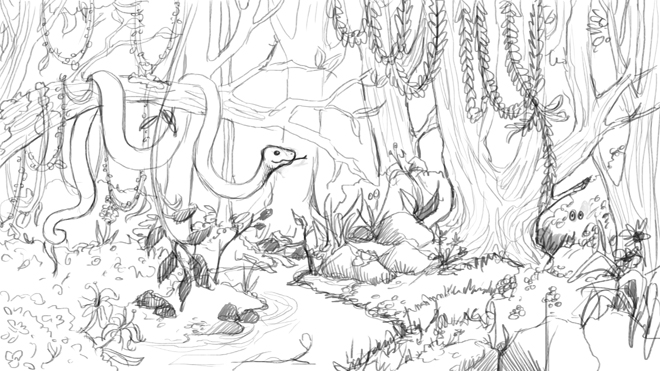 This isn't as hard as it looks!  Notice how the rocks are just triangular lumps, and the trees are uneven lines with uneven circles for their foliage. I also want some life and a suggestion of a story in the scene, so I drew a snake as well as eyes peeping out from bushes—looking concerned.
If you have trouble finding all of the scared eyes, that's OK.  At this stage, the drawing can look a little confusing.  That's when you know it's time to add some light and dark values.
As a general rule, lighter areas draw the eyes more, and I know I want the snake to be the star of the scene. I also picked out a tree to be lighter than the rest (over on the right), to create a sense of depth that will draw my audience into this setting.
Doesn't the image feel much more clear now that it has light and dark more clearly defined?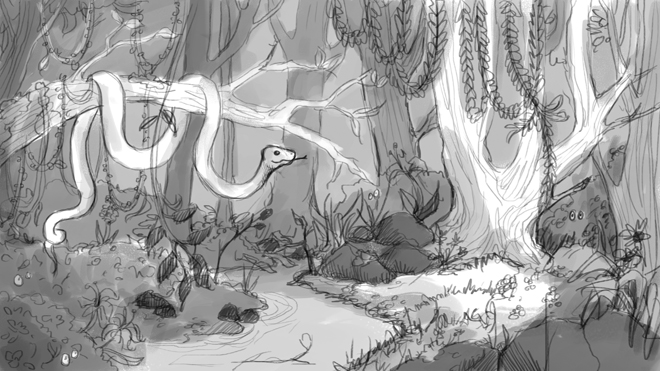 When adding light and dark values, you also end up really simplifying your shapes.
Also notice how the tree trunks in the background are dark and the space in between them is light.
The last part of the process is final touches and more rendering. I darken up some edges in the illustration so that where the light hits the snake and the big tree become the clear focus.  I also add more shadows which really make the snake pop out more and come alive as an important story character.  Lastly, I tighten up the lines around all of the little eyes in the bushes, and make sure their pupils focus directly on that snake!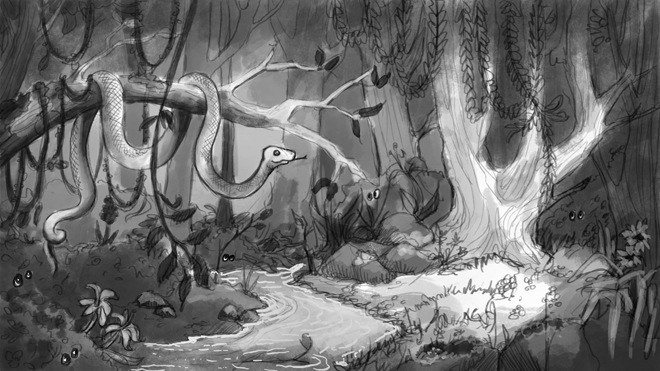 And there you have it, a jungle setting for a jungle story.
Which brings up another point:  don't forget to set your stories in new places.  Create a jungle setting, a deep sea setting, an outer space setting, and challenge yourself to learn the details of those worlds, so that your stories are not limited to just familiar places!