- Tip -
You are not alone when you write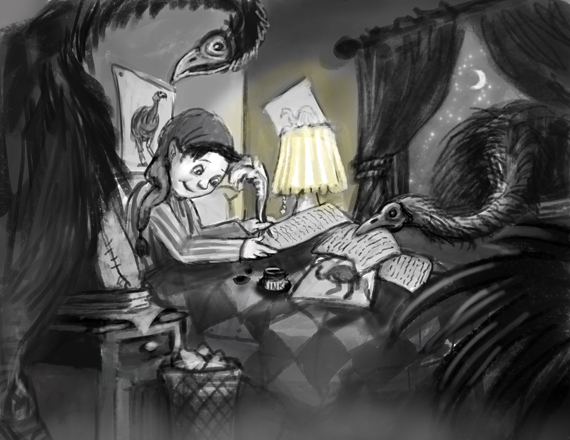 When writing the first lines of a new story, we can sometimes feel lonely.
The room might feel quiet.  (A lot of writers like quiet, but, sometimes, the quiet can feel like emptiness, too.)  A new page also has a quiet feel, like a further flashing sign that we are alone there, as well.  A feeling of far too much solitude might seep in…
However, a writer is not alone!  Not ever!  Our characters are with us from the moment we take out a fresh piece of paper.  Characters want their stories to be told!  Characters—the vast majority of them—want to be seen.
Before we start writing, we can sit and imagine these characters in full color and shape and tone of voice (or squawk).  We can draw very quick rough sketches of our main characters and put those on the wall.  We can name the characters so that they become more real!  If we spend this time imaging our characters, as all old story elves do, we will begin to feel heat radiating from their bodies, feel the tickle of their breath on our necks, even hear them talking to us and to each another!
Once imagined this fully, characters can become downright pesky at times!  (Also be aware that characters will frequently follow you around even when you're not writing.)
New idea:  If you feel lonely while writing, pause before the first sentence and imagine your characters right there with you.  See what they look like, and feel what their personalities are like.  Get to know them better as you write.  KEEP SEEING THEM AROUND YOU.
Storytellers are extremely fortunate.  We are absolutely never alone.